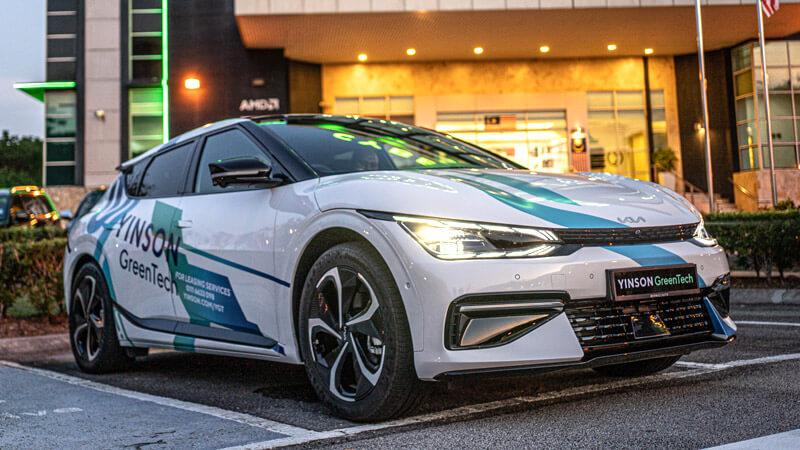 drivEV, a brand of Yinson GreenTech, is a leasing partner for businesses that specializes in customized solutions to reduce the complexity of transitioning to EVs. We are committed to make electric vehicles affordable and accessible through our leasing programme.
Our comprehensive range of urban mobility solutions includes passenger cars, light and heavy-duty commercial vehicles. Our smart technologies, such as telematics and digital keys, ensure that your fleet is efficient, safe, and sustainable, while minimizing your carbon footprint.
Yinson GreenTech (YGT) is the green technologies business unit of Yinson Holdings Berhad (Yinson), a global energy infrastructure and technology company headquartered in Malaysia. Yinson has businesses in offshore production, renewables, green technologies and offshore marine, and a presence in 18 countries.
YGT was established in 2020 as a green technologies solution provider delivering a clean, integrated and technology-enhanced ecosystem across the marine, mobility and infrastructure segments.
We invest in novel businesses, R&D and strategic partnerships to develop integrated smart green assets and infrastructure. Ultimately, we aim to create a proprietary digital marketplace that provides affordable and accessible tech-based low carbon products and services to help businesses and communities achieve net zero ambitions.
YGT's strategic investments currently include an advanced hydrofoil system for electric vessels, e-bikes and swappable batteries, autonomous technology for electric vehicles and vessels, marine energy storage solutions and electric vehicle charging solutions.
Our Sub Brands
That make EV transition easier for you.